BITCOIN MLM SOFTWARE
Bitcoin is one of the most popular cryptocurrency. Screen reader support enabled. Bitcoin is one of the most popular cryptocurrency.
MlM software is based on bitcoin functions. In this member can pay and receive in bitcoin currency.
There are different types of plan in MLM software such as Helping plan, level income Plan, Board Plan, Binary Plan, Generation Plan.
System can automatically generate internal bitcoin address and member Id.
Once a new member is registered in the software they will automatically receive an email as well as text message of their confidential information like member code, member name, internal bitcoin address, etc.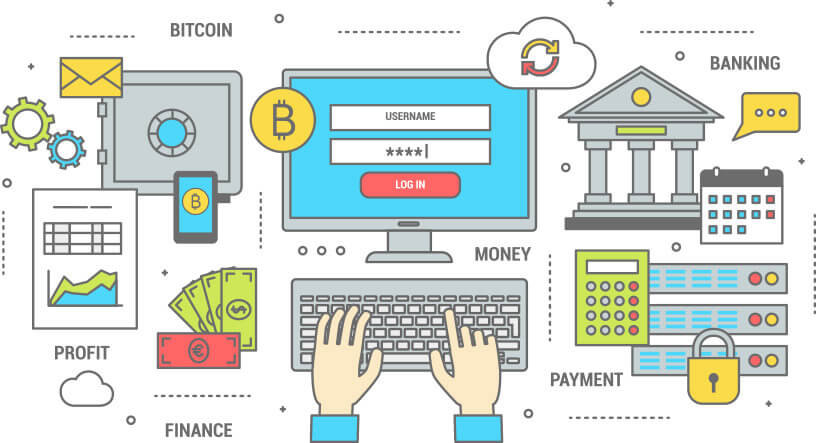 REGISTRATION
Registration means joining of new member.

In registration we register new member in our software.

System can automatically generate internal bitcoin address and member Id.

For registration process we have to fill up the following details

Personal details:

First name
Surname
The member code of the member who invited
The member name who invited
E-mail Address



Login details:

Choose your password
Confirm your password & many more..



The Group Sponsor:

The Group Sponsor is Sponsor Code with Name .
The Code and Name comes from session (Automatic) when member login.



Membership Code of My First Registration (Donít Have Then Leave Blank.):

Member can fill their first id in this column.
One member has many idís in cryptowealth so this column will help to combine all ids in one account.



Id Type:

Id Type is used for member verification using their passport or national id proof.



Bitcoin Wallet Name/Nickname:

Name of Bitcoin Account Holder.



Blockchain BTC Address:

Blockchain BTC Address is External Bitcoin Address.
External Bitcoin Address is used to receive commission to member bitcoin account.
It work like account number.



AdSpace Directory:

AdSpace Directory is use to bifurcate member into two different part:- Business Ads and classified Ads.



AdSpace Package:

Member Can Join in thrive in using AdSpace Package.
There are different package with different Amount.



PROFILE AND BITCOIN ADDRESS (View Profile)
In Profile and bitcoin address member can check his/her whole profile and member can also edit further if required.

The edit button is located on the upper right side of the page.

EXAMPLE :- Member can edit name, contact number, address, external bitcoin address, country, email address etc.

But member cannot make any changes of their confidential information.

For making any change or editing in important or confidential information they have to contact admin back office.
MESSAGE TO ADMIN
Member Can Chat or Message Using Message To Admin Form.

Member tell their queries to admin.
MESSAGE FROM ADMIN
Member can see Admin Reply on their Messages.

It is one kinds of report.

Members can only view the messages.
MEMBER DETAILS
Register:

In Registration form member have to do registration as mentioned above.



Change Login Password:

In this you can change as well as update your new password.
Reset your password.



Referral Link:

In Referral Link you can give the reference to another member to join the system.
When the member will click on your given referral link the system will generate the registration form and the software will automatically generate the code and the member will be registered under your Id.



GEANOLOGIES
Genealogies basically mean tree structure.

The tree structure is sponsor wise.

You can also get the details of the member like upline Id, Mobile No. , status.
REPORTS
In this you can see different types of reports.
My Referral:

In you can see the total number of member registered under your reference.



My Direct Referral History with Down line:

Here you can get the history of the member who are under you. You are the sponsor.



My Life Account:

It is a personal account.
Here you can see how many account you hold with history.



My Life Account:

It is a personal account.
Here you can see how many account you hold with history.



My Sponsor Details:

Who introduced you, their details is know as sponsor details.



My Downline Information:

You can see your downline history with all the information required.



Level Income:

Level income is one type of income.
It is a level wise commission history report.



My Future Balance:

Future balance is one kind of commission report.
Here 50% of your income will be deducted and saved for your future.



Prediction Report :

Prediction Report is to show the member their upcoming pot or next pot and pending total commission.
In Prediction Report member can see their upcoming pot, upcoming commission etc.



Pot Commission Report :

Pot Commission Report gives complete information of pot income.
Pot Commission Report consists of pot number, pot commission in dollar.
Member can see how many pot they have achieved and how much commission they will get.



Tree Structure:

Crypto wealth is board plan, so it has different tree for different pots.
Pot Tree is one kinds of tree report with multiple ids wise.
Member can see their tree with all re-entry position wise in Different pots.



My Business Summary :

My Business Summery Shows Your Left and Right side of Business in Count.
Business Summery Also Give Paid And Unpaid Member Business for Left and right members.



Current ADShare Retention :

Current ADShare Retention is one type of commission report.
Member can see their Bitcoin In and out meaning, how much member can earn as commission and how much member can transfer to their upline.
It is level wise commission report.



Current ADShare Profit

Current ADShare Profit shows you Member Profit report.
Current ADShare Profit is one type of member profit commission report with level wise.
In Current ADShare Profit member can see how much bitcoin they have earned and how much they have used and how much balance in their Account.



My Business Members

My Business Members is downline report with member complete history.
Members can see downline member name, code, email id, package (product), level number etc.



History ADShare Profit Withdrawals:

History ADShare Profit Withdrawals shows history of all withdrawals with date, amount, Transferred to Bitcoin Account(External Bitcoin Address) and status (pending or confirmed).



Classifieds ADSpace Directory:

Classifieds ADSpace Directory gives information of Classifieds ADSpace with category wise.
When member click on any category then member can see Classifieds ADSpace which is in that category.
Member see complete information of that Classifieds ADSpace like Member Details Which is in Classifieds Ads, Contact No, Email Ads, Images Etc.



STATISTICS
It gives you the joining and commission summery month wise.

It also gives country wise joining report.
POST BUSINESS ADS
Business Ads Used for to help to promote commission business and member can share ideas and view with company head office.

In Business Ads Member Name ,Published Date, Email Id, Company Description (In Company Description Member Can write view and ideas),Image(Member can Upload New logo ,Images etc for company).
DONATE FOR CHARITY
Member can donate his/her Commission some Amount to Charity.

Pay Charity Consist Member Code, Member Name, Charity Name (You Can Select Different Trust for Charity),Amount, Remarks(Write remark or our thought for trust).
WITHDRAW ADSHARE PROFIT
Member can withdraw his/her commission using Withdraw ADShare Profit form.

Member Request to Admin back office for withdrawal of commission.

When Admin approves the request then only member will get there withdrawal Amount.
MY BUSINESS
My Business is one kinds of tree report with multiple ids wise.
Member can see their tree with all re-entry position wise like Member Name, Code, Level 1 count (Member Can See level count for level 1),Level 2 count(Member Can See level count for level 2),Level 3 count(Member Can See level count for level 3),View Structure (it is hyper link when member click on that link its shows tree structure of that re-entry position).

FAQ

What is Bitcoin?

Ans. Bitcoin is a form of digital currency which is based on an open source code that was created and is held electronically. In short it is a form of cryptocurrency.

How one can invest in Bitcoin?

Ans. One can invest through blockcahin or by investing in MLM company.

How can one make money through Bitcoin?

Ans. By continuously investing through blockchain or by joining some MLM company.

Who Is In Control Of Bitcoin?

Ans. As we mentioned earlier, the Bitcoin currency system is not controlled by any single entity. The system is decentralized and thus no government has any authority over it. True control over Bitcoin is with the people and businesses that invest into it, mine it, or use it for purchases.

Is bitoin legal?

Ans. Because the Bitcoin network is decentralized, there are few limitations which are superimposed onto this new currency. However, some jurisdictions, such as those in Russia, severely ban or limit the use of foreign currency, which under technical terms Bitcoin belongs to.
Close
See what our customers says about our service in Bitcoins.
Bitcoin MLM Software. Bitpool the next wave in South Africa (2018)

We are creating another big wave of opportunities in South Africa in MLM industry. With Bitcoins we are launching one of the best plan in market. See how we handled clients support. Finally as they say "there is nothing like a happy customer".
Biggest Bitcoin MLM company in South Africa runing on Vitual Splat software.

One of the most popular and biggest MLM company in South Africa is using our software. See what experience gave to the customer.
Bitcoin Level Income + ROI Plan. Happy customer.

Checkout this video where we have a satisfied client for whom we have created #Bitcoin Level Income + ROI Plan.

The #MLMSoftware is complete automation of their business.

Bitcoin wallets are generated automatically and the commission is distributed into those wallets without any manual intervention.
Level Plan + Bitcoin with Auto waithdawal of commission.

One click Bitcoin commission payment option given for quick distribution. See the experience of working with Virtual Splat.